Creative Thinking – Think Outside the Box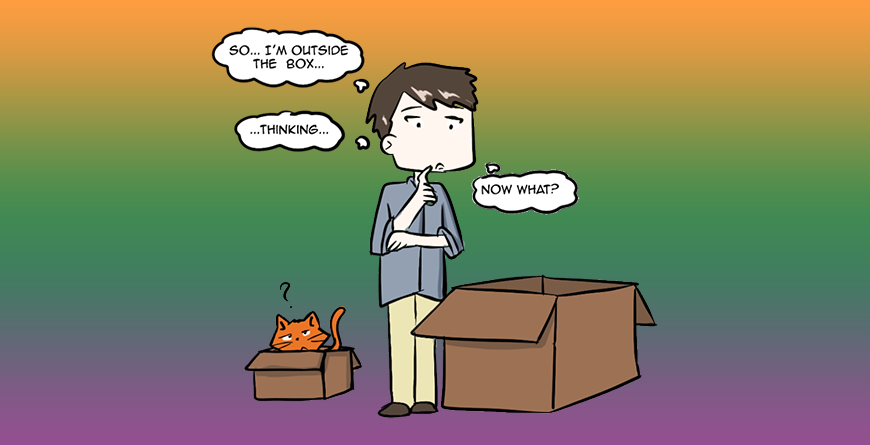 Many years ago a woodsman owed a substantial sum of money to a loan-shark. Now this loan shark had a particularly nasty disposition and he just so happened to fancy the woodsman's lovely daughter, Josie.
Knowing that the woodsman could not possibly repay his debt, he took the opportunity to insist on a deal.
This was the deal:
The loan shark would place two pebbles into a bag, one white and one black. Daughter Josie would be required to put her hand into the bag and pick out a pebble.
If she happened to select the white pebble, her father's debt would be considered fully paid. If, on the other hand, she happened to select the black pebble, the debt would also be considered paid but she would be required to marry the loan shark.
The woodsman knew he would never be able to pay the debt and he and his daughter trembled at thought of her marrying this horrible man.
The load shark was insistent. The loan shark picked out two pebbles from a pile of pebbles in the garden. As the loan shark dropped them into the bag Josie noticed that both pebbles he had selected were black. What was this poor girl to do? The loan shark beckoned to Josie to put her hand into the bag and select a pebble.
Josie pondered for a moment and realised she had three choices:
She could refuse to pick a pebble from the bag
She could take both pebbles out of the bag and expose the loan-shark for his dishonesty
She could just pick a pebble knowing that she was making the sacrifice but then living a horrible life with this nasty man
Josie feared the consequences from any of those options.
Stretching her thinking a little more, Josie, reached into the bag and selected a pebble. Her fingers appeared to fumble as she lifted the pebble from the bag. Josie "accidently" dropped her pebble such that it landed smack-bang in the midst of the pile of other pebbles in the garden.
Apologising profusely for her clumsy behaviour, Josie exclaimed, "Oh, I'm so sorry. How clumsy of me! Never, mind, there is one remaining pebble in the bag. When you check the colour of the remaining pebble, it will be obvious what colour I picked."
Obviously the pebble which remained in the bag was black. Not wanting to be exposed for his deceit, the loan shark had no option but to agree that Josie had picked up the white pebble from the bag. The woodsman's debt was cleared.
Moral of the story: There's more than one solution to every dilemma. Think outside the box.