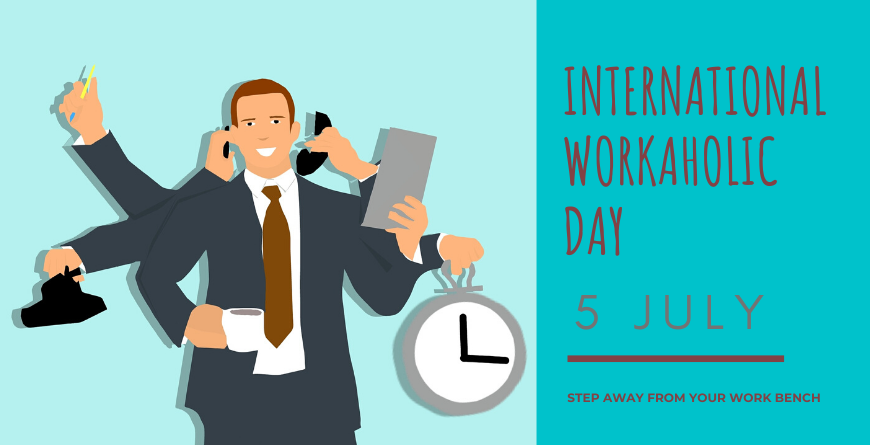 Yes, indeed, July 5 is Workaholics Day. A quirky day, yes, but it's a serious day too. It's a day dedicated to all those people who devote themselves to working their butts off, even to the point of ignoring all the health warnings, and disregarding all those other compelling and interesting things just waiting to be done in life.
Today is the perfect day to remember the old saying:
"All work and no play…"  (you know the rest. )
National Workaholics Day is the perfect day to remind ourselves that work/life balance is important.
This day is dedicated to all those over-workers relentlessly beavering away.  This unofficial holiday, or day-of-rest, is the perfect time to move away from your workbench and re-think your work habits. Remember, all work and no play can impact on both your mental and physical health – not to mention your relationships.
So today is the perfect day to make lifestyle changes.
How will you celebrate this special day?
If you recognise yourself for what you are: a struggling workaholic, the 5 July is the perfect day to devote to doing something that's just for fun.
If you're addicted to work, this will be the perfect day to:
take your family on a picnic
take in a movie
play golf
have a lunch date with friends with no connection to your work (You don't want to be tempted to talk work. Seriously – no you don't.)
devote the day to planning your next holiday, or even
use social media to broadcast your intention to break your work addiction
If you have a workaholic partner, friend, or colleague, this will be the perfect day to:
drag you addicted friend away from their work bench for some well-earned recreation. While you're there, rant a bit about the value of taking time out.
Did You Know…
The word "workaholic" is a portmanteau word comprised of "work" and "alcoholic".
According to the Oxford English Dictionary, the word first emerged in Canada in 1947 when the Toronto Daily Star published an article about addition to work. The term was extensively in the 1960s to refer to people guilty of excessive and compulsive work habits.
Happy workaholic day! 5 July